Shopping Cart
Your Cart is Empty
Thank you for your business!
You should be receiving an order confirmation from Paypal shortly.
Exit Shopping Cart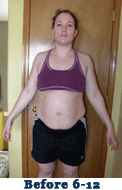 Amy has helped change my life. After I figured out the nutrition part of my life, I met Amy about a month later and she helped me add in the physical part.The boot camps are an addiction for me now and I saw great results within the first several weeks. Then I started personal training with her too, and that's where I saw the dramatic results I've been looking for. I'm stronger, faster, and have more endurance than I had in high school and college. She takes the time to work individually with me showing me form and explaining the reasons behind the movements and how to do them properly. She's very attentive and answers my many questions any time. I am a client for life!
~Elea S.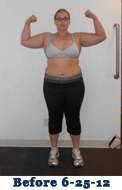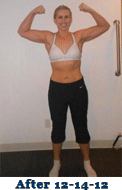 After putting on such a large amount of weight I had no idea how to go about shedding the pounds and becoming healthy again.Amy has been the greatest motivational factor through our personal training sessions. Not only have I taken off several pounds and inches, but I have noticed a huge positive change in my attitude and overall outlook on life.
I have worked with different trainers in the past, but I can honestly say this is the greatest experience and results I've had. Thank you!!! This was only in 3 months time.
~Renae K.
I've tried alot of different things over the years and nothing was ever dramatic or permanent. After meeting Amy, I knew I wanted a personal trainer. I needed accountability and a plan. In 2 months, I've lost 37 inches and am at my lowest weight in years, not to mention, I have muscles I never could see before. I've read stories like this and never thought it could be me. It's amazing what she has done for me. I knew going into this, that I wanted a new lifestyle not just a temporary fix. look forward to my new plan every month; exercise is exciting again!!
~Rita D.
When I started working with Amy I had been running and doing magazine workouts, but I wanted better results. I have worked with personal trainers before so I knew that they could help me achieve better results. However, Amy has helped me achieve far beyond what I thought I was capable of!!!! She has been there every step of the way, giving me new ideas and workouts to best push my body. I brought the motivation but she brought the results!!! Now I am doing things I never thought possible, including training for several half marathons throughout the upcoming year. More importantly I feel great, have lots more energy. Amy not only changed my life but showed me how to live a new healthier lifestyle.

~Kim R.

I had decided that I needed to get into an exercise routine to help fight the osteoporosis that I had been diagnosed with. In May 2016 I was talking to someone who worked at a local gym. I made an appointment to visit the gym but after reviewing their website and pricing I cancelled the appointment. I felt it would not only be too intimidating but I would be a "number" in the crowd. I asked my massage therapist Sharon, if she could recommend a gym and she immediately gave me the brochure for "A Personal Fit." I liked the idea of a smaller, more personal gym. Amy put me in contact with personal trainer Carolin who immediately made me feel comfortable explaining what the personal training entailed and how it would be tailored to my specific needs. Carolin is a great motivator and makes me challenge myself which is exactly what I needed! She makes my twice a week sessions fun and something that I look forward to, even the sore muscles as a result of my hard work. Physically I feel better, I am stronger, and it has changed my overall attitude. This is the "Best" thing that I have done for myself in a long time. I am hooked! Thanks Carolin!




~Denise S.




My journey with Amy has been amazing! My goal was to get strong and lean. With Amy, I have cut my body fat in half and gained so much muscle that my grandsons brag about how strong their Nana is! Post menopause can be a discouraging time for weight control. Thank you beyond words, Amy, for what you have done to improve my life!




~Patti B.




When I started going to A Personal Fit I did so for my daughter to help her in her fat lost challenge, Never did I realize that it would become a life changing event for me, I was 151 lbs when I decided to take this step. Miranda Gouin has been working with me in this Life changing commitment, Even with the little set back I had we have manage to get me down to 123 as of today:) She has began working with me for competition, For me it's not just weight lost and building muscle it's a dream come true and a Life changing event that I am proud of and MIRANDA HAS MADE IT POSSIBLE FOR ME TO BELIEVE IN MYSELF AND MAKE MY DREAM REALITY! And the boot camps are so worth the pain in the long run you come out a better person a changed person! Thank You Miranda and Amy for committing yourself if helping us become better and stronger!




~Sandra Mc.




Amy's total dedication to her passion of physical fitness and nutrition iscontagious! She's been working with me for over a year and she always believes in me and my ability to succeed, even when I lose faith in myself. That is what's so special about her and that's what keeps me going - her enthusiastic attitude and constant support. Whether nutritional and fitness advice is needed or merely accountability, Amy customizes her approach to each individual and constantly evaluates and adjusts as necessary. Her enthusiasm is endless - she keeps your hopes up and motivation high!




~Shari D.




In just over 6 months of working with Amy I've gone from just wanting my body to stop hurting all the time to feeling capable of and starting to train for an attempt to climb Mt. Everest next spring. Thank you Amy for transforming my body with strength, flexibility, aerobic work, and nutritional advice. This is the best I've felt in years!"




~Kevin J.




A Personal Fit is the perfect fitness system! I am so impressed by how affordable, organized, and easily manageable it really is. Amy makes it soo much easier to fit health & wellnessinto my life, which is not easy with 3 kids, work and school to juggle. I was unable to make it to a training session once, so Amy came to me - which was very impressive.

The website gives such great feedback and is user friendly with many different ways of tracking progress. Amy set me up on a plan that worked best for my body that truly works!! I love combining fun with working out and A Personal Fit allows that! Very professional and knowledgeable ~ you cannot find that just anywhere!




~Krista M.

0

/